A unique chance that no one can miss out. You can safely reach and discover the sapphire mines , a unique and unknown experience and exciting adventure. In 2007, along with the authorities and the operators we acquired some agreements to secure the whole area, which we called " The Swiss bank" which is now accessible to cars and buses. From our showroom in Ilakaka, you can easily walk to the mines' area for a 30 to 60 minutes tour. It is also an opportunity to visit the town of Ilakaka.
The cost for the tour is 12'000ar (about 3.5 euros) per person, free for under 16.. Although the tour can be completed in about 30 minutes, staying longer is a plus in order to enjoy the landscape and capture outstanding pictures.
In the morning, all visits start at 07:30 until 10:00 and from 01:00 till 03:00 in the afternoon. Although you could simply come around to our showroom and then be escorted to the mines by our manager Mohamed (033 17 720 17), we are still advising you to call a day before.
Meals are available and provided if booked 24hrs in advance. While having lunch you will be able to enjoy the peacefulness of our garden and get some refreshments from our bar.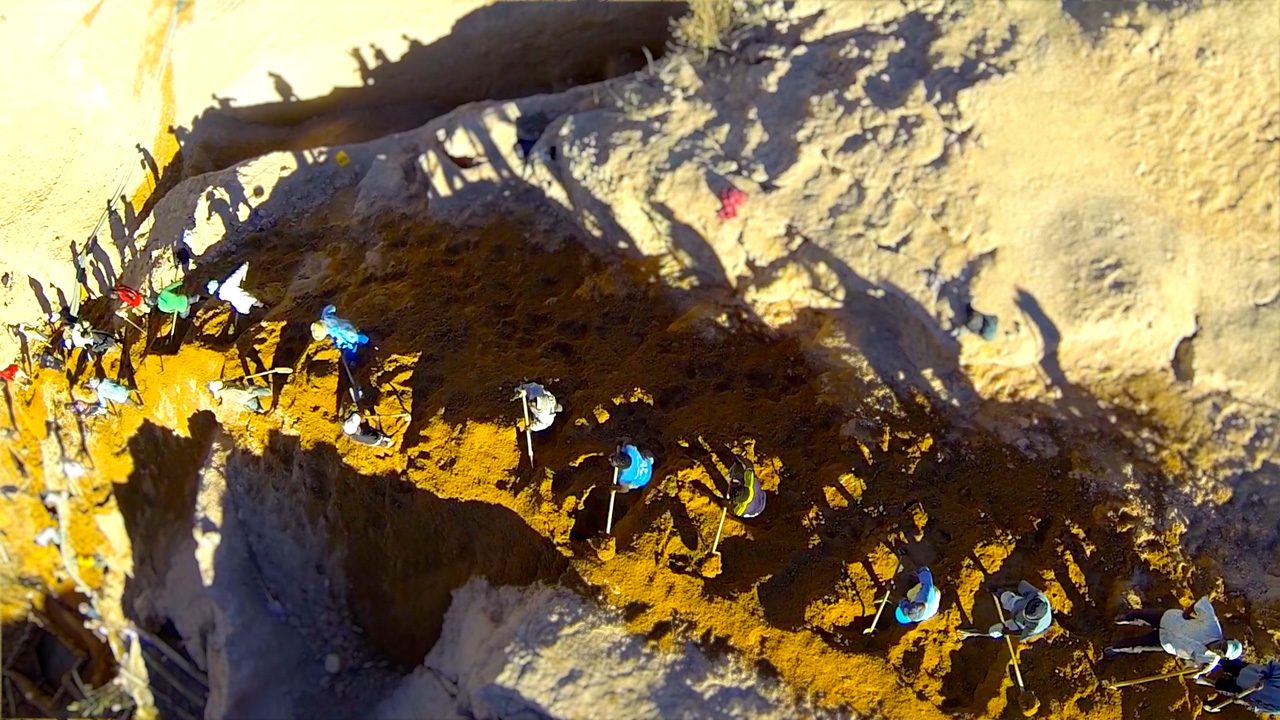 The world's biggest sapphire open pit deposit is located along the unique tarmac road aiming to the south. This is the main "highway", the "Malagasy Route 66", the famous National Road N° 7. At the southend of Isalo, you will see a stunning eroded stoneware massif, yet another national treasure, which became a National Park in 1999. This is where the "Ilakaka" river flows and this is why this mining area and its town bear the name of Ilakaka. It is a 4'000km2 large mining area and there are over 30.000 people living in town.
The first deposits happened to be discovered in areas close to the river and this is where the mines developed. Many of them are still active andthese are the ones that you will be visiting.
Nevertheless the amount of efforts (which seems from another time) completed by the miners allows the population to make a living in spite of numerous deficiencies, among which education .
From these efforts, miners acquire an "almost acceptable" remuneration that allows them to live decently and to hold hope for better days. Their dream about " the gem piece that will change my life" remains a powerful motivation factor. Today, in the area, there are about 100'000 people making their living out of gemstone related activities.
Less than 20 years of existence represent little in comparison with hundred years of sourcing from well-known and recognized origins (Burma, Sri Lanka). Nevertheless, they will have allowed for the development of much improved living conditions: today, there are about 10 multi-confessional schools in Ilakaka. It has become an established stopover for "Taxi-bé", the main means of communication and transportation for the local population. There is also a bank, which opened in 2017. In addition, security has much improved and the old "Far West" cliché is no longer applicable.